Posted on 18. Jul, 2010 by Mark in The Body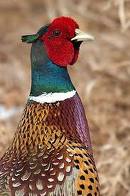 Last Wednesday our group was gathering for our weekly fellowship.  Our "class clown", so to speak, is Buddy, who walked into our living room and stated "Welcome to the church of the ring-necked pheasant".  For us this is funny because we have all come to an understanding how the organized church fails to fulfill the purposes of the God, so it is fun on some levels to poke fun at what we have come from.  He later coined the term "the royal order of the ring-neck", which I also found funny.  Just thought I'd share it.  It may be a case of "you had to be there" to find it funny, and I'm not the best story teller.
Anyway, on to business.
One of my favorite albums recently is Across the Earth, by Hillsong United.  Recently I was listening, and the words to "Desert Song" really spoke to me.  I'll paste them below (emphasis mine).  (I tried to embed the YouTube "video" into this post, and even clicked over the the "html" view of the post-editor.  It didn't work.  Any suggestions would be appreciated, as I'm still learning  how this all works).
Verse 1:
This is my prayer in the desert
when all that's within me feels dry
This is my prayer in my hunger and need
My God is the God who provides
Verse 2:
And this is my prayer in the fire
In weakness or trial or pain
There is a faith proved
Of more worth than gold
So refine me Lord through the flames
Chorus:
And I will bring praise
I will bring praise
No weapon forged against me shall remain
I will rejoice
I will declare
God is my victory and He is here
Verse 3:
And this is my prayer in the battle
And triumph is still on it's way
I am a conqueror and co-heir with Christ
So firm on His promise I'll stand
Bridge:
All of my life
In every season
You are still God
I have a reason to sing
I have a reason to worship
Verse 4:
This is my prayer in the harvest
When favor and providence flow
I know I'm filled to be empited again
The seed I've recieved I will sow
after listening to this, one passage that we discussed at our fellowship struck me.  We read from Romans 8:28-39, with the gist of the passage summed up in verses 35-37:
"35Who will separate us from (CB)the love of [e]Christ? Will (CC)tribulation, or distress, or (CD)persecution, or (CE)famine, or (CF)nakedness, or(CG)peril, or sword?  36Just as it is written,
"(CH)FOR YOUR SAKE WE ARE BEING PUT TO DEATH ALL DAY LONG;
WE WERE CONSIDERED AS SHEEP TO BE SLAUGHTERED."
37But in all these things we overwhelmingly (CI)conquer through (CJ)Him who loved us."
The other important piece was verses 29-30:
"29For those whom He (BI)foreknew, He also (BJ)predestined to become (BK)conformed to the image of His Son, so that He would be the(BL)firstborn among many brethren; 30and these whom He (BM)predestined, He also (BN)called; and these whom He called, He also (BO)justified; and these whom He justified, He also (BP)glorified."
The final verse I wanted to mention is Ephesians 1:19-23:
"These are in accordance with the working of the(BF)strength of His might 20which He brought about in Christ, when He (BG)raised Him from the dead and (BH)seated Him at His right hand in (BI)the heavenly places, 21far above (BJ)all rule and authority and power and dominion, and every (BK)name that is named, not only in (BL)this age but also in the one to come. 22And He (BM)put all things in subjection under His feet, and gave Him as (BN)head over all things to the church, 23which is His (BO)body, the (BP)fullness of Him who (BQ)fills (BR)all in all."
Since we are in Christ, we are with Him, seated at the right hand of God.  Our victory is already guaranteed.  Romans 8 speaks to the fact that He's already glorified those whom he foreknow, predestined, called, etc.   We know that no weapon formed against us will prosper, and no attack of the enemy will prevent the fulfillment of His plan.  The only thing that can derail the plan of God is our failure to continue in faith (salvation is by grace, THROUGH FAITH).  This doesn't mean we'll never doubt, but that we'll continue to stand (I'll have to discuss this further in the future) in spite of our doubts and emotions.
The battle is over, the victory is won, we must only see through what we already know to be the end result!